Current Conservation Efforts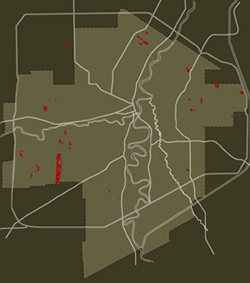 Winnipeg - circa 2003
Recently, further efforts have been made to identify all remaining Tall Grass Prairie remnants in Manitoba. Some of the privately owned areas have now received protection under Manitoba's Critical Wildlife Habitat Program and the Manitoba Naturalists Society's Prairie Patron Program. There are only four publicly protected tall grass prairie sites in Manitoba totalling less than 250 acres (100 hectares).
There has been new interest in restoring Tall Grass Prairie in many small areas of Winnipeg. Sites, such as an area at the Forks in downtown Winnipeg, have allowed many Manitobans to view this rare ecosystem. Renewed appreciation of native plants and animals has stopped the further destruction of Tall Grass Prairie sites.
A highly productive agricultural economy has now been established on the prairie in Manitoba. Therefore, it is impossible to ever re-establish the native prairie landscape. The continued protection of remaining native grasslands in Manitoba is extremely important so future generations are provided with, at the very least, a glimpse of what the prairie once was.
References
Nickel, Paul. Indians of the North-West. Natural Resource Institute, University of Manitoba Winnipeg: 1980.
Pettipas, Leo et Leigh, Syms E. Glimpses into the Precontact Archaeology of Southern Manitoba. Produced by Manitoba Department of Culture, Heritage and Historic Resources Branch and Manitoba Museum Archaeology Department: Winnipeg, 1990.
Reaume, Tom. Manitoba's Tall Grass Prairie. Manitoba Naturalists Society: Winnipeg, 1993.
Warkentin, John. Manitoba Historical Atlas. The Historical and Scientific Society of Manitoba: Winnipeg, 1970.
City of Winnipeg Website: www.winnipeg.ca/publicworks/naturalist/livingprairie/history.asp
Environment Canada Website: www.pnr-rpn.ec.gc.ca/index.en.html
Manitoba Conservation Wildlife and Ecosystem Protection Branch Website: www.gov.mb.ca/conservation/wildlife/
The Changing Prairie Ecosystem Website: www.albertapcf.ab.ca/changing_prairies.htm


2004