The Province Of Manitoba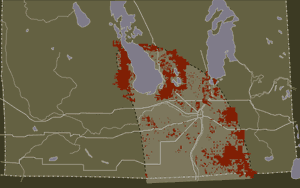 Southern Manitoba Fragmented Tall Grass Prairie; Rails and Roads - circa 1926
Beginning in 1869, the land that is now Manitoba was surveyed and divided into townships, sections and quarter sections. Mapping the land in this way created a new perception of the landscape and allowed both governments and individuals to view the land as a commodity and demonstrate ownership. Settlers ploughed the native grasslands and planted cereal crops, quickly destroying the habitat of many plants and animals. Most Tall Grass Prairie remnants remained only because the land was too wet or the soil was too rocky to easily cultivate, (shown on map in red).
In a twenty-year period, around the turn of the century, over 1 million people came to Western Canada from Europe, Eastern Canada, and the United States. By the early 1900's, the prairie landscape in Manitoba had drastically changed.
Railway lines were constructed throughout the west, permanently marking the landscape. By the early 1920's, many roads and highways were also built connecting all regions of the province. These roads followed the pattern of the section survey so were seldom direct. Highways were constantly improved, relocated off the section grid, and extended throughout the mid-20th century, further altering the landscape and reducing remnants of Tall Grass Prairie.


1869–1926