Instructions:
The flora and fauna of prairie-Manitoba has changed greatly over time. Move your cursor over the pictures to learn how the changing landscape has impacted certain species of animal and plants. You can search for the plant species of the time line in the Herbarium section of the website. View the species change over time timeline.
---
Legend:
Status:
The terms used to denote the status of species population are based on the classification system developed by the Manitoba Conservation Data Centre. The codes adopted for Manitoba Tall grass prairie Timeline are:
red
Extinct: species no longer exists.
Extirpated: species no longer exist in Manitoba.
Endangered: species facing imminent extirpation or extinction.
orange
Rare: species may be threatened or vulnerable to extirpation; or very few remaining individuals.
green
Common: species is widespread, abundant. Conditions could change to affect species status.
white
Recent arrival: species did not exist in Manitoba tall grass prairie in pre-contact period. Now occurs through introduction or natural range expansion.
Native to Manitoba:
Yes : present "pre-contact"
No : not present "pre-contact"
Time periods:
< 1820 : pre-contact period
1820 - 1920 : settlement period
> 1920 : mechanization period
Species:
Any indigenous species, subspecis, variety or geographically or genetically distinct population of wild fauna and flora.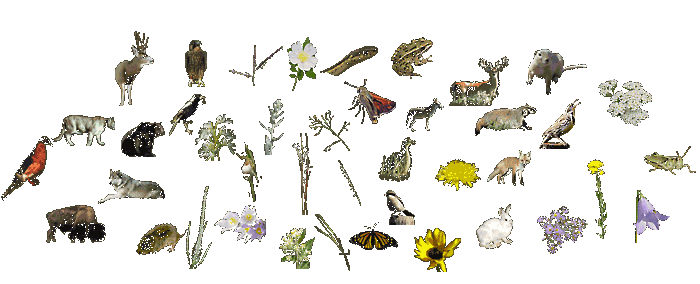 1
2
3
4
5
6
7
8
9
10
11
12
13
14
15
16
17
18
19
20
21
22
23
24
25
26
27
28
29
30
31
32
33
34
35
36
37
38
39
40
41

Show/hide species timeline legend