Conservation: Education Programs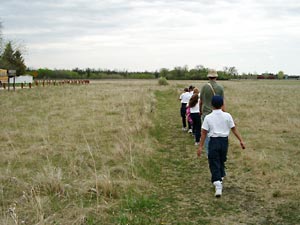 The Living Prairie Museum Staff operate an Interpretive Centre which opens annually with the bloom of the Crocus, Manitoba's provincial flower. Special events and theme days are scheduled throughout the season.
The Interpretive Centre showcases displays and presentations on prairie history and ecology. The observation deck provides a glimpse of the "sea of grasses" and a perspective of the prairie's seasonal variation and colour. A selection of prairie books, seeds and souvenirs are available for purchase from our Bookstore.
Interpretive Centre Hours
| | | |
| --- | --- | --- |
| Spring: | Sundays only | 10:00 am to 5:00 pm |
| July & August: | Everyday | 10:00 am to 5:00 |
Group tours and curriculum-based school programs are offered throughout the year on a reservation basis. Program information is available on our website or by calling (204 832-0167) for an Education Brochure.
Please visit the prairie at any time between dawn and dusk to enjoy the self guided trails.
-Admission is Free-